August 26, 2010 – August 29, 2010
Residential in the Valley of Baztán (Navarra)
SPAIN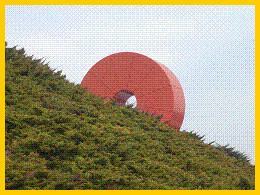 Objectives:
• Understand the physiological processes that are involved in creativity.
• Complete or move through the current life cycles or gestalten.
• Activate personal skills and tools that help develop creativity.
• Experiment with art therapy.
• Participate and contribute to the joint creation.
• Discover the personal mythic journey.
Program:
• Creativity and psychological function as a process
• The Gestalt approach to creativity
• Methods and techniques for developing creativity
• Art therapy
• Lectures, panels and presentations by participants
• The Mythical Journey. The new edition of this course that was created in 1991.
Methodology:
This workshop is experimental in nature and requires active participation.
Taught By: Gestalt Psychotherapists' Juan José Fernández and Maribel Gómez Sanjuán.
Schedule: We begin at 10:30 am on Thursday the 26th and end after lunch on Sunday the 29th. The working sessions with be held daily from 10:00am until 2:00pm and from 4:30pm until 8:30pm. We will have some physical activity before breakfast and some fun activities after dinner.
Registration of Fees:
Regular registration is open until July 20th. The price of the workshop is 263 Euros and can be paid to account number 21010060030010802908 at Kutxa indicating your name and the memo "workshop". Then confirm your registration via the contact form on our website. The amount for the accommodations is payable at the beginning of the workshop and costs 167 Euros. The accommodation is a single room.
Papers, Posters and Workshops: To submit papers, panels and exhibitions please send your proposal in writing before June 1 via the contact form on the website. You must be registered in advance.  
¡¡¡ >> Extension of the deadline for POSTERS only until July 15. See the website for more information.
The Schedule of Activities:
Thursday:
Arrival and accommodations
Presentation of the conference – Juanjo Díaz and Maribel Gómez
Collective Creation Workshop: "Transforming Environments, Creating Txokos." -- Juanjo Diaz
Workshop: ¨Creativity and Creative Adjustment in Simulation roles and Games." -- Juanjo Diaz
Friday:
Workshop: "The Haiku, Dada and Spelling Words." -- Maribel Gomez
Simultaneous workshops:
- CREATIVE MASSAGE – Ainara Campos
- A TRIP WITH A MANDOLIN FROM I-YOU TO WE -- Monica Perez
- INDIVIDUAL AWARENESS AND GROUP CONSCIOUSNESS -- Raquel Lazaro
- RHYMES WORKSHOP -- Gallastegi Aurkene
Saturday:
Workshop: "Aesthetic Journal." -- Maribel Gomez
Workshop: "The Mythic Journey" -- Juanjo Diaz
Sunday:
Collective Creation Workshop: "Integration of Experience." -- Maribel Gomez
Conclusions
Farewell and closing
*** + Nights full of art and surprise
to see videos and slideshows from previous editions of the workshop
go +>>>  (in the spanish page)